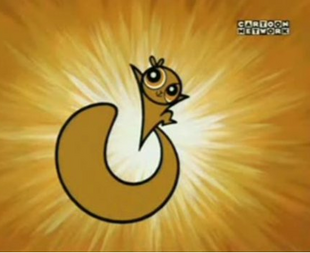 Bullet looks like any other squirrel in Townsville, being born to a normal family of squirrels. Bullet looks exactly alike her siblings that are briefly shown at the beginning of the show, with brown fur and large orange eyes, though Bullet's eyes are meant to look like the other Powerpuff Girls. In the episode "Stray Bullet", the girls briefly added another fourth member, a squirrel whom Bubbles had given Chemical X, whom they named "
Bullet
". The Powerpuff Girls first meet Bullet when Bubbles rescued her from a hawk and takes the squirrel home. During the night, Bubbles feeds the squirrel drops of Chemical X in hopes that will help the squirrel heal faster, which soon leads to Bullet developing powers similar to the Powerpuff Girls'. The girls officially adopt her as a Powerpuff. However, Bullet feels that she must protect her animal friends and decides to go back to the woods.
Bullet still resides in the forests outside Townsville, where she protects the animal community, but she returns to help the Powerpuff Girls from time to time. The only other time Bullet appears in the series, however, is in "The City of Nutsville." When Bubbles gets stung in the throat by a bee and is unable to speak, she calls on Bullet to help her when angry squirrels swarm the city and she is unable to communicate with them. They eventually figure out that the squirrels were trying to retrieve their acorns, which were buried underneath the Mayor's newly-planted statue. Bubbles and Bullet destroy the statue, and some time later, a new statue of the duo is placed in honor of all the squirrels in Townsville. She is know called The Powerpuff Squirrel.

Cpoyright: http://powerpuff.wikia.com/wiki/Bullet
http://powerpuff.wikia.com/wiki/Bullet
Community content is available under
CC-BY-SA
unless otherwise noted.