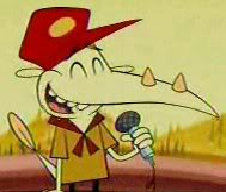 Clam
is a small
albino pygm
rhinoceros
who is part of the "Jelly Trio." Although being one of the main characters of the show, he rarely speaks. He has a low voice and usually speaks in short bursts of few words, often repeating the last words that others say.
Carlos Alazraqui
voiced Clam. Murray said that he had "no idea where he came from." He said that he started drawing a character with rhinoceros horns and the form is "what he became." Originally Murray created Clam as a
mute
, but he decided that he preferred Clam to have a voice
Cartoon Network
's press kit describes Clam as an "eccentric musical and academic genius," "misunderstood," and "protective."
The Hollywood Reporter
reviewer Ray Richmond described Clam as "highly intelligent." Clam once painted a portrait that looked identical to
Leonardo da Vinci
's
Mona Lisa
. From an empty soda bottle, he coaxed a symphonic version of
Beethoven's
Ninth
, complete with supporting chorus. Clam understands the operation of technology and machinery that other characters find "confusing." Clam eats
cereal
in order to obtain prizes from the cereal carton; most of the possessions he brings to camp consist of prizes from cereal boxes. Other episodes have shown he loves to eat pancakes, vegetables, root beer, & Gooseberrys.
Cpoyright: http://en.wikipedia.org/wiki/List_of_characters_in_Camp_Lazlo#Clam
http://camplazlo.wikia.com/wiki/Clam
Community content is available under
CC-BY-SA
unless otherwise noted.