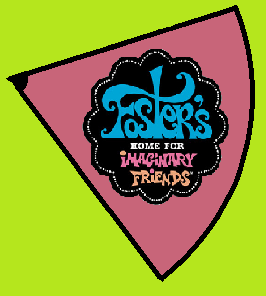 Foster's Home for Imaginary Friends or Foster's Home for short, is an American
animated television series
created and produced at
Cartoon Network Studios
[1]
by
animator
Craig McCracken
, creator of
The Powerpuff Girls
. It is (unofficially) the 17th Cartoon Cartoon. It first premiered on
Cartoon Network
on August 13, 2004, as a 90-minute
television movie
, which led to a series of half-hour episodes. The series aired on Cartoon Network and its affiliates worldwide, except in Canada where it has aired on English and Francophone
Teletoon
networks due to Canadian television ownership regulations. The show finished its run on May 3, 2009 with a total of 79 episodes. As of March 30, 2012, this series has returned to Cartoon Network in re-runs on the revived block,
Cartoon Planet
. And on August 11, 2012, it returned in re-runs on
Boomerang (TV Channel)
.

Overview
In the Foster's universe, imaginary friends take physical form and become real as soon as children think them up. Once the children outgrow them, the friends move to Foster's Home for Imaginary Friends, where they stay until other children come to adopt them. The home is run by the elderly Madame Foster, its founder; her imaginary friend Mr. Herriman, the business manager; and her granddaughter Frankie, who handles day-to-day operations.
Mac is an eight-year-old boy, whom his mother told that he needs to give up his friend Bloo, who hears about Foster's and thinks it will be a perfect place for him to stay. Bloo moves in with the lanky and one-armed Wilt, the scary-looking but cowardly Eduardo, and the bizarre bird/airplane/tree friend Coco. He is saddened to learn that staying at Foster's makes him eligible for adoption by another child, but eventually Madame Foster makes a special deal: as long as Mac visits every day, Bloo can live there and not be adopted.
In the Foster's Home for Imaginary Friends universe, imaginary friends (or "friends" for short) become physical beings the instant a child imagines them; unlike how the concept often works on other shows, an imaginary friend takes physical and emotional form after a child creates specific details about that character. Unfortunately for them, the children eventually outgrow them around ages 7–8. When this happens, the friends are left to fend for themselves. Foster's Home for Imaginary Friends was founded by the elderly Madame Foster to provide a foster home for abandoned imaginary friends.
There are (according to "Setting a President") 1,340 imaginary friends in Foster's Home; however, at the end of "Emancipation Complication", Madame Foster states that there are 2,038 imaginary friends currently residing in the house, plus Bloo and Mr. Herriman.[2] The house motto is "Where good ideas are not forgotten".
The inspiration came when McCracken and his wife, Lauren Faust, adopted a pair of dogs from an adoption shelter. McCracken wondered how things would be if there was a similar place for childhood imaginary friends.
Additional Voices
Edit
Characters
Main Characters
Recurring Characters
Reception
Foster's Home for Imaginary Friends was named the 85th best animated series by IGN, which called it very funny and endearing.[3] Mike Pinsky, in a review on DVD Verdict, praised the art design and the characterizations,[4] particularly singling out Cheese as possibly "the quintessence of Foster's surreal charm" in his season two review.
Annie Awards
Edit
The show was nominated for four Annie Awards in 2004,[6] and 5 more in 2005, winning two awards that year for Best Original Music in a Television Series (James L. Venable and Jennifer Kes Remington for "Duchess of Wails") and Production Design in an Animated TV Series (McCracken with Mike Moon, David Dunnet and Martin Ansolabehere for the Christmas episode "A Lost Claus").[7] Five more nominations came in 2006, with three wins as Best Animated Television Production, Best Original Music in a TV Series (Venable and Remington winning again for "One False Movie") and Production Design in a TV Series (Ansolabehere by himself for the one-hour "Good Wilt Hunting" episode).[8] Venable and Remington teamed up for the show's lone Annie nominee in 2007, for their original music in a TV series for "The Bloo Superdude and the Magic Potato of Power".[9] The show was able to garner 2 more nominations in 2009 for the categories Character Design in a Television Production and Production Design in a Television Production with the nominees being Janice Kubo and Ben Balistreri respectively.
Emmy Awards
The show has won a total of seven Emmy Awards. The episode "House of Bloo's" won two Emmy Awards for art direction (Mike Moon) and character design (Craig McCracken). "World Wide Wabbit" won an Emmy for best storyboard (Ed Baker). The show's theme song (described by McCracken as "psychedelic ragtime" and written by Venable) was nominated for Best TV Show Theme in 2005, but lost to Danny Elfman's theme to Desperate Housewives. The episode "Go Goo Go" was nominated for Best Animated Program Under One Hour in 2006, and Character Design supervisor Shannon Tindle won an Emmy that same year for that same episode. The 2006 episode "Good Wilt Hunting" was nominated in 2007 for Best Animated Program One Hour or Longer, but lost to the Camp Lazlo TV movie "Where's Lazlo?". However, David Dunnet won an Emmy for his background key design for said episode. The 2008 television movie"Destination Imagination" won another Emmy in 2009 for Best Animated Program One Hour or Longer. Copyright: http://en.wikipedia.org/wiki/Foster%27s_Home_For_Imaginary_Friends
http://fhif.wikia.com/wiki/Main_Page
Community content is available under
CC-BY-SA
unless otherwise noted.