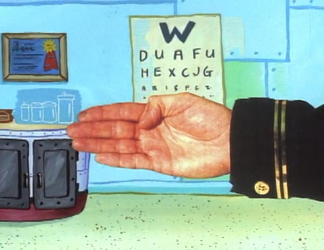 Hans is a giant sailor hand that speaks in a dutch accent. He is named Hans as a play on the word 'Hands', as his hands are the only visible part of him ever shown on screen. Hans exists as an onscreen site gag. He can take characters out of the cartoon and place them in a live action sequence. Hans works at the Bikini Bottom Hospital, as the doctors assistant. He specializes in treating the Suds. Treatment involves being used as a cleaning implement, on several different surfaces. Hans is shown to be very friendly, as he always gives his patients a giant Lollipop after treatment. However, when seeing someone impersonating a doctor or faking an illness, he may  use them to clean particularly painful or unsanitary surfaces.
Copyright: http://spongebob.wikia.com/wiki/List_of_characters/Other
Community content is available under
CC-BY-SA
unless otherwise noted.