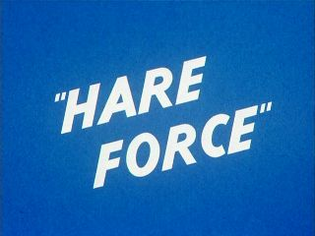 Hare Force is a 1944 Warner Bros. cartoon in the Merrie Melodies series, directed byFriz Freleng and starring Bugs Bunny and an old lady. Although the title is an obvious play on Air Force, the cartoon's plot has nothing to do with the military. The unit of Friz Freleng was the first unit besides Bob Clampett to use the definite design. Freleng made a slight modification while this cartoon was in production. "As Time Goes By" is sung in this short by Sylvester and Bugs at different points. 
On a cold and snowy night, Bugs wangles his way into the good graces, and more importantly, the house, belonging to an old lady (voiced by Bea Benaderet). Sylvester, her dog (voiced by writer Tedd Pierce), takes an instant dislike to the Bunny, and most of the cartoon is spent with the two tricking each other into going outside the house and getting locked out. Finally they get into a schtick where they are each throwing the other out the front door in turn, in quick succession. The old lady, fed up with all the bickering by now, intervenes (out of frame) and tells them both to get out, when suddenly she is thrown out, startled and indignant. Bugs and the dog have made peace, and are lazing by the fire. Bugs turns to the audience and says, in typical fashion, "Gee, ain't I a stinker?"
Characters

Edit
Community content is available under
CC-BY-SA
unless otherwise noted.