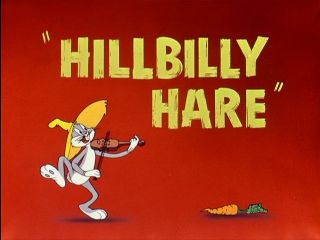 Hillbilly Hare is a 1950 Merrie Melodies cartoon starring Bugs Bunny, produced and released by Warner Bros. Pictures. It was directed by Robert McKimson, with a story byTedd Pierce and musical direction by Carl Stalling. Bugs as usual is voiced by Mel Blanc, as is Curt Martin; uncredited Stan Freberg and John T. Smith voice Punkin'head Martin; Smith also voices the square dance caller before Bugs unplugs the machine.
This is only 1 of 3 WB cartoons released in 1950 not to bear the "all-green" ring scheme, the others being Dog Collared and Two's a Crowd. 
Bugs Bunny is vacationing in the Ozarks and stumbles into the territory of two hillbillybrothers Curt and Punkin'head Martin. After having several of their hunting attempts foiled, Curt and Punkin'head Martin are determined to get revenge on Bugs for their humiliation. Bugs easily outsmarts them and eventually leads them into a violent square danceinvolving repeated slapstick comedy gags. The square dance song starts as a straight forward version of "Skip to My Lou" while the jukebox band starts and plays and Bugs dances in a dress. Then Bugs deliberately unplugs the jukebox and takes over the fiddling and square dance calling, still to the melody and rhythm of the song. Bugs proceeds to give the Martins a series of increasingly bizarre and violent directions, which are unquestioningly followed by the brothers with hilarious results. Finally, with the Martins having jumped off a cliff, Bugs says "And that is all" and the cartoon ends.
Characters
Edit
Community content is available under
CC-BY-SA
unless otherwise noted.