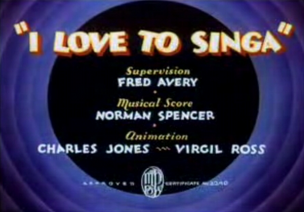 I Love to Singa
is a
Merrie Melodies
animated
cartoon directed by
Tex Avery
, produced by
Leon Schlesinger
, and released to theatres on July 18, 1936 by
Warner Bros.
and
Vitaphone
.
[1]
I Love to Singa
depicts the story of a young
owlet
who wants to sing
jazz
, instead of the
classical music
that his
German
parents wish him to perform. The plot is a light-hearted tribute to
Al Jolson
's film
The Jazz Singer
.
"I Love to Singa" was first a song written by Harold Arlen and E.Y. Harburg for the 1936 Warner Bros. feature-length film The Singing Kid. It is performed three times in the film: first by Jolson and Cab Calloway, then by the Yacht Club Boys and Jolson, and finally again by Calloway and Jolson. During this period, it was customary for Warners to have their animation production partner, Leon Schlesinger Productions, make Merrie Melodies cartoons based upon songs from their features.
The cartoon has, in recent years, taken on something of a cult following, with a pervasive impact on popular culture. The short, one of the earliest Merrie Melodies produced in Technicolor's 3-strip process, is recognized as one of Avery's early masterpieces.
I Love to Singa depicts the story of a young owlet who wants to sing jazz, instead of the classical music that his German parents wish him to perform. The plot is a light-hearted tribute to Al Jolson's film The Jazz Singer.
The young owl, voiced by Tommy Bond, best known as "Butch" of the Our Gang (Little Rascals) films,[1] is unjustly kicked out of his family's house by his disciplinarian violinist father (voiced by Billy Bletcher) after he is caught singing jazz instead of "Drink to Me Only with Thine Eyes" to the reed (pump) organ accompaniment of his mother (voiced by Martha Wentworth). While wandering, he comes across a radio amateur contest, hosted by "Jack Bunny" (a pun on Jack Benny), and billing himself as "Owl Jolson" (a reference on Al Jolson), wins the contest, but not before his father has finally seen his son's potential and allows him to freely sing jazz.
The original opening and credits were restored for the DVD release in 2004.
Community content is available under
CC-BY-SA
unless otherwise noted.