Madame Foster founded the home that bears her name. She's had a strange life, having once gotten lost in the labyrinth house for a week, eating nothing but acorns and toothpaste. She also spent forty-six days in the horse stables when her granddaughter Frankie accidentally let the Scribbles out from in 1984. She owns what looks like a late 1970's Pontiac Trans Am sports car, complete with the "screaming chicken" on the hood similar to the one shown in the Smokey and the Bandit movies, which she likes to drive around town (extremely recklessly). She also possesses a chest of pirate treasure buried near a Hydrangea bush on her property. When Madame Foster was a child, she created her imaginary friend Mr. Herriman, Herriman would often perform for the younger Madame Foster, doing an assortment of dances and songs, which he continues to do to this very day, much to his own slight embarrassment. When at last Madame Foster created her foster home for imaginary friends, she made Mr. Herriman the president of the house, in-charge of running the home and handling the adoption of the friends. Kooky and charming, and always wearing a smile for anyone to cheer them up as their surrogate grandmother, she's a fun-loving old woman who always finds a way to have a good time, even if she has to break Mr. Herriman's rules in order to do so; she is truly a kid at heart. She loves having Wild Tea Parties while everyone is out. Mr. Herriman is never happy about this, but since it was Madame Foster who created him in the first place, he doesn't have much of a say about it. She often pokes good-hearted fun at others. She is quite sneaky and malicious when she needs or wants to be. Madame Foster sometimes makes rude jokes out of someone else's unfortunate situations. She dotes on her granddaughter Frankie, but at the same time is not above driving the younger woman to distraction. Madame Foster and Mac seem to be kindred spirits, as she has never gotten rid of her imaginary friend (Mr. Herriman) and Mac refuses to give up Bloo. Sometimes, Madame Foster's daily actions tend to change from kindhearted to eccentric (such as running with pointy objects inside the mansion, using exaggerated methods to solve many problems such as using a garden hose to cure Bloo of the hiccups (though she may have done this simply for the fun of it), or even performing semi-nudism). Regardless of her age and mild senility, though, Madame Foster is always composed and still very sharp. Whenever evil imaginary friends or nasty characters try to harm or insult her, the house, or any of her friends, she plays the role of a clueless old woman-but always ends up having the upper hand.
Copyright: http://fhif.wikia.com/wiki/Madame_Foster
http://fhif.wikia.com/wiki/Madame_Foster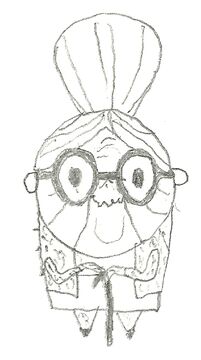 Community content is available under
CC-BY-SA
unless otherwise noted.