Michigan J. Frog
 is 
a male 
frog
 who wears a 
top hat
, carries a cane, sings 
pop music
, 
ragtime
, 
Tin Pan Alley
 hits, and other songs from the late 19th and early 20th century while dancing and performing 
acrobatics
 in the style of early 20th century 
vaudeville
. 
His name comes from the song "The Michigan Rag" (an original song written by Jones, Maltese, and musical director 
Milt Franklyn
), which he sings in the cartoon. 
The running gag in the two-part series is that Michigan's undeniable talent is discovered by some hapless (and greedy) person who has visions of making a fortune by putting this great entertainer in front of an audience and profiting from it. He invests all his time,
money
, and eventually his sanity in that cause. He catches on too late that the frog will perform for him and him alone; in front of anyone else, Michigan is just a normal frog and thwarts the man's dreams of wealth. The man in the original cartoon, who discovered the frog in the cornerstone of an 1892 building under demolition, tosses Michigan and the suitcase he came in into the 
time capsule
 for the 
Tregoweth Brown
 Building, a soon-to-be dedicated skyscraper. In 2056, when a construction company (consisting of men in spacesuits) razes the building with disintegration guns, another person (very similar to the first, but bald) discovers the suitcase, with Michigan still alive inside, and the 
process
 repeats.
Copyright: http://en.wikipedia.org/wiki/Michigan_J._Frog
http://looneytunes.wikia.com/wiki/Michigan_J._Frog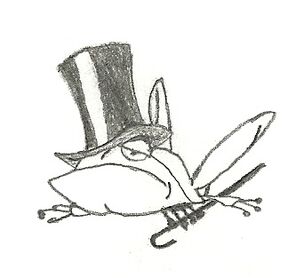 Community content is available under
CC-BY-SA
unless otherwise noted.