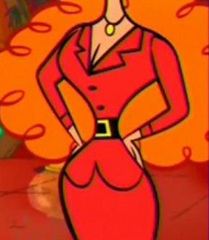 Ms. Sara Bellum, Usually beside
Mayor
, is the "brains" of his operations. She has red hair, wears a red dress, red shoes, and her face is never shown throughout the series. The Mayor's very competent assistant, a statuesque redhead.
Ms. Sara Bellum
is a tall, shapely lady with a great deal of curly red hair and a red dress and speaks with a throaty, alluring, and quite unruffled voice . She handles things the Mayor can't, which is practically everything. Her face is
never revealed onscreen
(except for one instance in a form of a dog in "Monkey See, Doggie Do" and until "The Powerpuff Girls Rule"). Whenever she appears, an object will either block her face or the camera will cut off everything above her neck. Whenever she is the center of attention (as when Blossom's mind was switched to her body or when she fought Sedusa) her hair often covers her face. Other onscreen characters often claim that she is very pretty, with the exception of the abrasive
Talking Dog
. In the bleak future of the episode "Speed Demon", she expresses an obsessive attachment to the Mayor, proving that she is in love with him despite the fact he's married. She attended elementary school with the Professor and Ms. Keane and attended high school with Sedusa and Femme Fatale prior to the creation of the Powerpuff Girls.
Copyright: http://powerpuff.wikia.com/wiki/Ms._Sara_Bellum
http://powerpuff.wikia.com/wiki/Ms._Sara_Bellum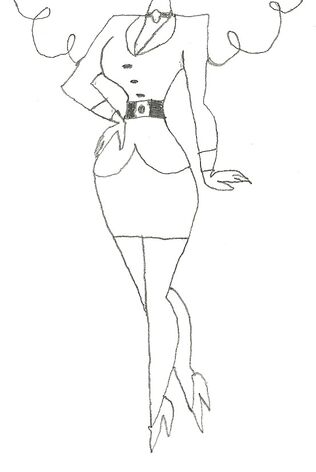 Community content is available under
CC-BY-SA
unless otherwise noted.