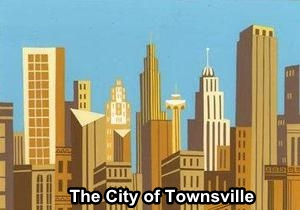 The enthusiastic but unseen narrator, known for opening nearly every episode with "The City of Townsville"! and ending most of them with "So once again, the day is saved, thanks to... the Powerpuff Girls"! He will often comment on the proceedings of the episode, say things which happen to be hints about the plots of certain episodes, and frequently breaks the fourth wall. He is only seen at one point in the series (in the episode "A Made Up Story" he wakes up the mayor who is sleeping under the podium. Viewers see only his hand and part of his arm), though he is a person and not just a disembodied voice. He is also shown to be the only connection between the audience and the girls, as he can "talk" to both and even be involved, such as Mojo Jojo transforming him into a dog. In the episode "Simian Says", he is kidnapped by Mojo Jojo, who promptly takes his place as the episode begins, granting Mojo Jojo the power to narrate the story as he sees fit; the girls have no choice but to go along with the narrative until they accidentally find him dictating the story's events, suggesting that the Narrator has absolute power over the story, though he never seems to exercise it himself. In The Powerpuff Girls Movie, he creates the "Powerpuff Girls" title for the girls when they become the city's protectors. At the end of the episode "Criss Cross Crisis", he and Bubbles temporarily switch bodies.
Copyright: http://en.wikipedia.org/wiki/List_of_The_Powerpuff_Girls_characters#Narrator
Community content is available under
CC-BY-SA
unless otherwise noted.