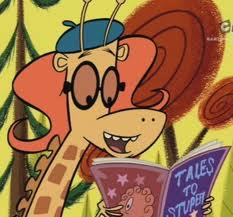 Nina is a Rothschild giraffe, with orange hair who is best friends with Patsy and Gretchen. She has a penchant for science fiction, reading sci-fi books, attending sci-fi conventions and for reading comics; she's frequently seen reading one. Her favorite story to read is "Tales to Gerplez". She has a "secret science workshop", a cabin where she designs crazy inventions and where she can get away from people. She works as a cashier for the Squirrel Scouts' cookie buisness and plays tennis. She is one of the three main Squirrel Scouts, but has been known to help lazlo on occasion.
Copyright:
http://camplazlo.wikia.com/wiki/Nina_Neckerly_(Squirrel_Scout)
Community content is available under
CC-BY-SA
unless otherwise noted.