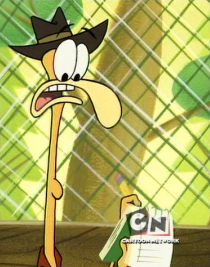 Ping-Pong is one of two identical twin
common loons,
the other being Dave. Between the them their is no difference in apearence, except that Ping-Pong is taller. The two eat many "
bugs
" and indicate scenarios that can ruin any plan. They get a bag of pretzals from their homeland, implied to be
Canada
, yearly. The two also run the camp newspaper "The Weekly Bean" as well as the camp Yearbook which they are the reporters for, the loons also have a love for terrible smells and turtle necks "funny due to their necks being so long", yet of the two Ping-Pong seems to be the more insane one. Often being the joker, quick to mock and not take things seriously.
Copyright: http://en.wikipedia.org/wiki/List_of_characters_in_Camp_Lazlo#Dave_and_Ping-Pong
http://camplazlo.wikia.com/wiki/Dave_and_Ping_Pong

Community content is available under
CC-BY-SA
unless otherwise noted.