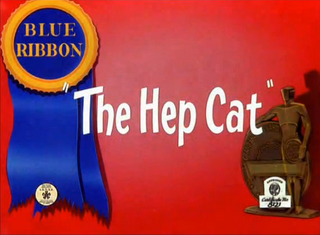 The Hep Cat is a 1942
Warner Bros.
cartoon
directed by
Bob Clampett
, written by
Warren Foster
, animated primarily by
Robert McKimson
, and set to a musical score composed by
Carl Stalling
. This cartoon is notable as the first
color
Looney Tunes
short
, but was re-released in the "Blue Ribbon Classics" series on November 12, 1949 as a
Merrie Melodie
. The end card also labels the short as a Merrie Melodies short subject. Because the original
Looney Tunes
titles are lost, the
DVD bearing this cartoon
features the "Blue Ribbon" titles.
The Hep Cat opens with a cat (who resembles the one from Notes to You) strolling through an abandoned lot. Unfortunately, he stumbles across a dog named "Rosebud"—otherwise known by fans as Willoughby the Dog—who, upon noticing the cat, gives chase. The cat, after a successful escape, begins singing "Java Jive." Later, the cat encounters an attractive female cat, and attempts to woo her, failing utterly. Suddenly, Rosebud the dog reappears and the chase resumes. After a series of zany, Clampett-esque sight gags, the cat once again evades the dog. As the cartoon closes, the cat can be seen kissing his dream girl—a puppet.
Community content is available under
CC-BY-SA
unless otherwise noted.